DIRECTIONS TO BERKELEY LAB
The laboratory is in Berkeley, on a site in the hills directly above the campus of the University of California at Berkeley. We have included specific information on how to get here from various starting points in the Bay Area. Also, note that the Lab has its own shuttle service that takes people around the site and to downtown Berkeley and the BART station there.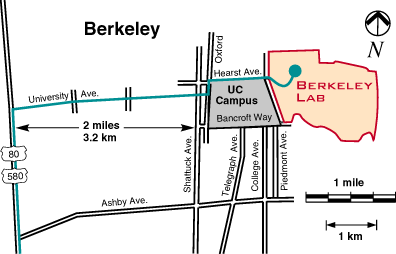 DIRECTIONS TO BERKELEY LAB
Phone Numbers Here
Lab Reception Center, (510) 486-6155, or fax (510) 486-6169
Lab Shuttle Bus Services, (510) 486-4165
Lab Tour Information, (510) 486-4387
Lab Operator, (510) 486-4000
Oakland International Airport to the Lab By Shuttle
Return to education page.