Origin of Large Scale Structure The CMB provides information on the initial conditions for large scale structure such as galaxies, clusters of galaxies, etc.

Origin of the Universe and Ultra-High Energy Physics CMB observations reveal information on the origin of space-time and the energetic processes occurring at that epoch and succeeding epochs.

Geometry & Dynamics of the Universe CMB observations provide information on the geometry and dynamics of the Universe. These include: the metric, open/flat/closed, shear, vorticity, and anisotropic expansion. The current limits on the rotation of the Universe are quite tight.

Determination of Cosmological Parameters Accurate, high-resolution CMB observations can provide precise determination of various cosmological parameters, e.g. the total mass-energy density of the Universe (Omega_total), the Hubble expansion rate (Ho), the density of baryons (Omega_b) in the Universe, various parameters of inflation or of topological defects, and the cosmological constant. These must be determined within the context of a specific model. Detailed CMB observations are capable of discriminating between cosmological models.

Discriminate between various cosmological models and provide a precision test of them in addition to determining their cosmological parameters. As shown in the figure below, the anisotropy power spectrum -- rms fluctuation power at each angular frequency (proportional to 1/angle) -- is a strong means to discriminate between cosmological models.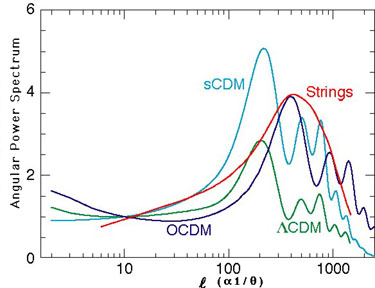 Figure caption notes:
sCDM is standard Cold Dark Matter model with critical density.
oCDM is an open universe with Cold Dark Matter model
Lambda CDM is a model universe with Cold Dark Matter and enough cosmological constant to make space flat
STRINGS is a model where large scale structure is seeded by GUT strings.