ESA Animation of Planck mapping the CMB
More ESA images and animations
__________________________________________________________________________________
What the Planck Satellite Will See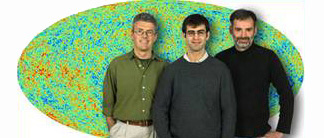 Simulating a map of the cosmic microwave background
Astrophysicist Julian Borrill of the Computational Research Division and Berkeley Lab researchers have achieved what they say is a "significant milestone" by processing a year's worth of simulated Planck data at the single most CMB-sensitive frequency, producing a high-resolution CMB map in just two hours Read more here.
Julian Borrill, Radek Stompor, and Christopher Cantalupo
Computational Cosmology Center
Cosmic Microwave Background Data Analysis At NERSC
__________________________________________________________________________________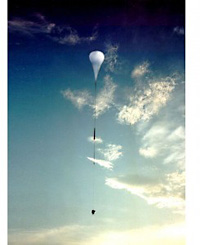 A Rising Tide of Cosmic Data
Simulating Planck's full focal plane—and beyond
Paul Preuss

In 1998 the balloon-borne BOOMERANG and MAXIMA experiments made what were then the highest-resolution measurements of minute variations in the temperature of the cosmic microwave background radiation (CMB). Their high resolution was achieved by scanning small patches of the sky to gather unprecedented volumes of data. The analysis of these datasets presented a significant computational challenge – they were the first CMB datasets to require supercomputing resources. Read more here.

MAXIMA (pictured) and BOOMERANG, balloon-borne cosmic microwave background experiments, were the first to generate so much data that a supercomputer and special algorithms were needed to analyze the results.
_________________________________________________________________________________
BBC News Report - Satellite prepares to go super-cold by Paul Rincon
Planck arrives at European Space Research and Technology Centre (ESTEC)
Dr. Smoot at Planck Inspection 2/2007
Press extracts regarding the Planck mission
Article in espace magazine (in French) PDF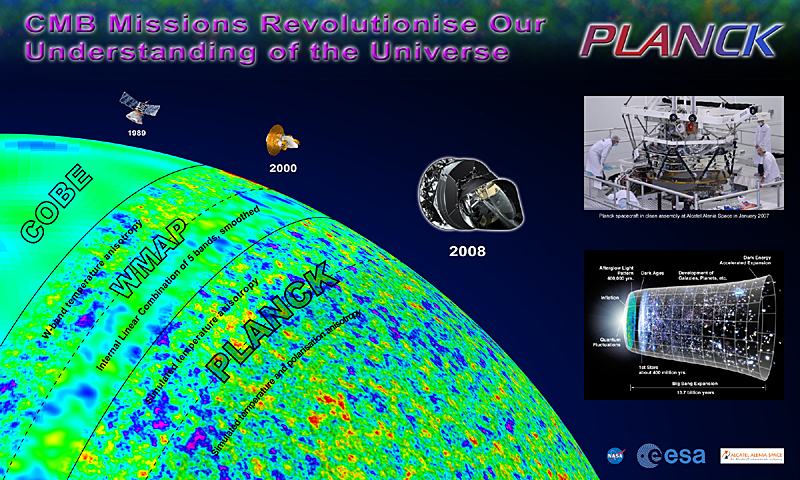 Full size poster PDF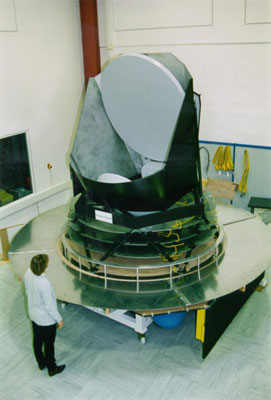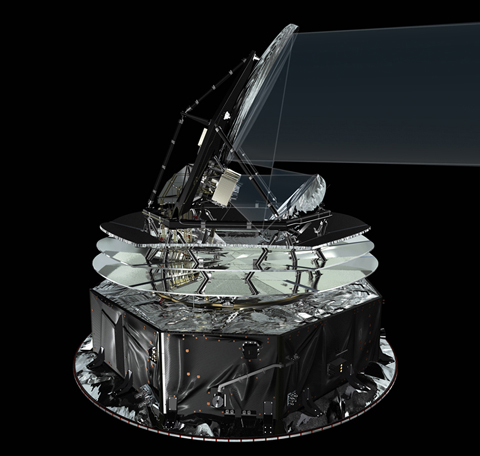 Planck in production and artist's model of Planck in operation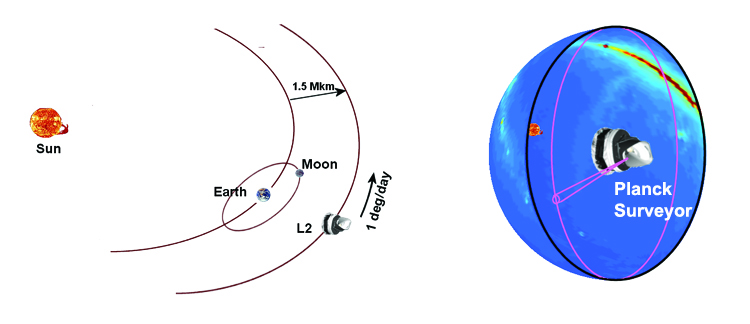 Planck will take between four and six months to reach its operational orbit around L2, the second Lagrange point of the Earth-Sun system, which is about 1.5 million kilometres away from the Earth. During the journey Planck will perform a number of manoeuvres. As Planck orbits L2, it makes one rotation about the Sun per year. The spacecraft spin axis has to be rotated at the same rate in order to remain Sun pointed. This is achieved by making regular manoeuvres that will be combined with periodically moving the spin axis out of the ecliptic plane to obtain full sky coverage. In addition to keeping the spin axis pointed within ten degrees of the anti-Sun direction to keep the payload in shadow, it must also be kept within fifteen degrees of the Earth direction in order to keep the Earth in the field-of-view of the communications antenna. Source: ESA Planck Orbit / Navigation